Objective
You can check out the Admin Console by clicking

icon in the CLO-SET dashboard. Admin Console shows the Group summary, billing history, user history, and rendering log for users' convenience.
Summary
Current payment plan

Click > Downgrade plan

Estimated Billing Amount

Current Payment method

*Not available for Free plan, Trial and Enterprise plan users

Click > payment methods setting page
Billing History
Update Date (UTC/GMT): Reflects the User History the next day
Date: Indicates User history (same as Invoice date / most recent dates are located at the top)
Invoice No.
Description:

Indicates

Subscribed plan + User history information


The number of increase and decrease of the paying users will be calculated on daily basis and the number will be displayed in the Description/Credit column.

Charges:

Indicate

additional charges (see below for pricing reference)

Planned payment: ex) Billed $700.00

Accumulated credit:

ex)

Additional $60.00 will be billed

Deducted credit:

ex)

Credited $66.67

Payment: When an actual transaction occurs(completion/cancellation), the transaction amount will appear in the 'payment' column

Credit balance: The accumulated credit balance becomes 0 every month after payment is completed
Billing History > Invoice
Group admin can view the invoice payment details from the Billing history page
User History Section
Group admin can view the changes of all users type among the group (Only indicates a change of permission for billing, not for each space and style)
Rendering Log Section
The group admin can check the rendering usage log of all users in the group.
※ About Rendering usage
Rendering usage for the advanced plan is 3GB per user, and the offered usage is aggregated within the group.

For the Free plan, there is a 1GB limit, and no additional usage is available.

Delete Users
Admin Console > Settings > Permissions by User.

The group admin can delete the user permission instead of visiting the respective spaces. Users can be deleted either entirely or by space.
Delete By Space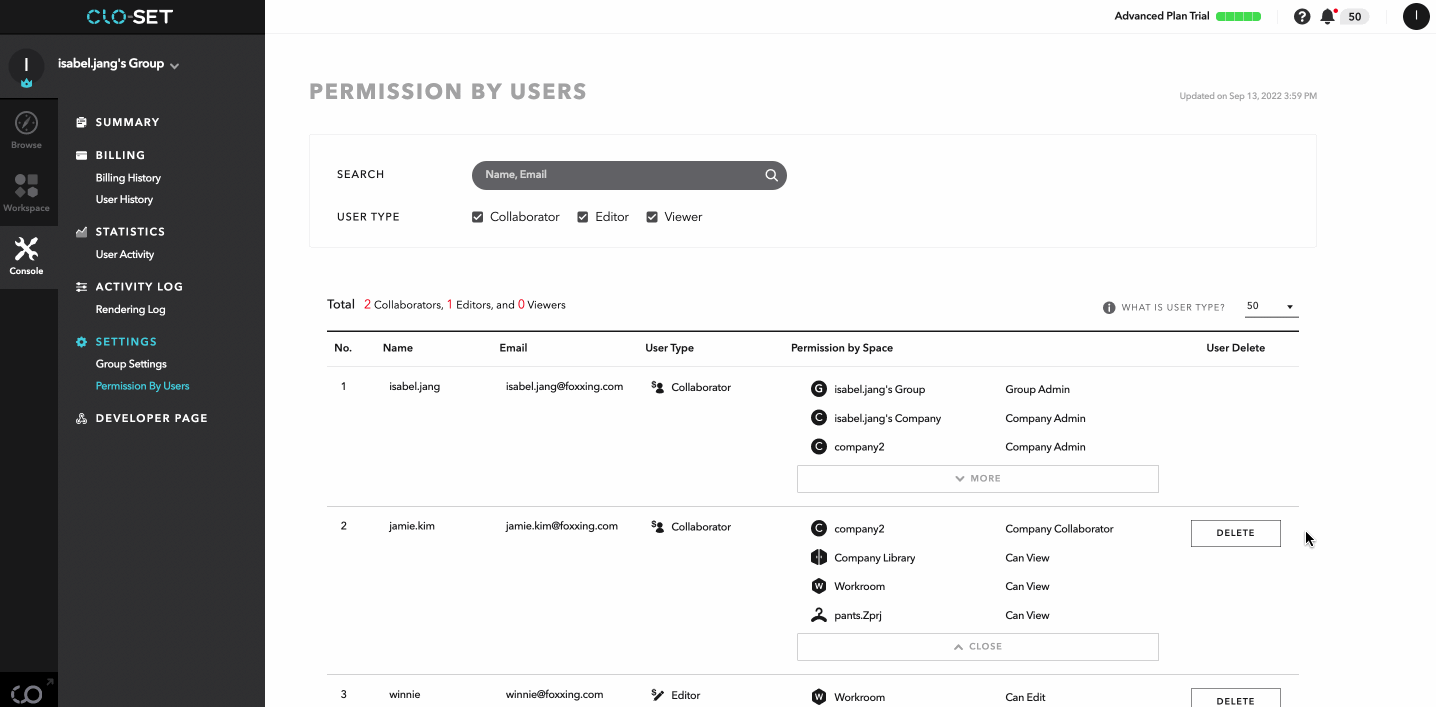 Delete the entire account