Objective
Learn how to navigate CLO-SET Dashboard and utilize your Workroom Space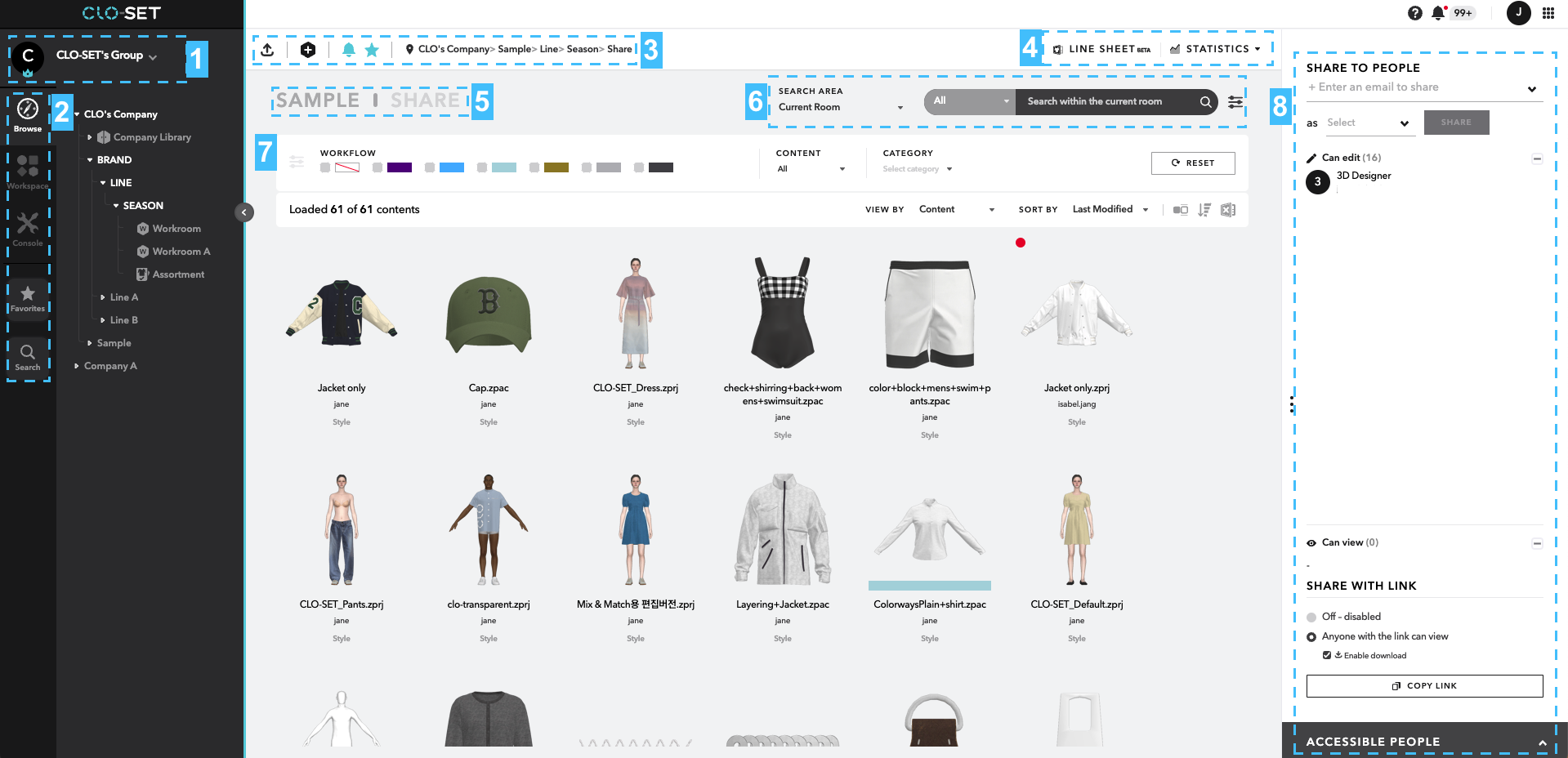 Details
1) Menus (Left Pane)
1. Group Name: See which Group you're currently in. To switch the Group, click on the downward arrow (⌄) next to the Group's name. The Blue Crown indicates that you are the Group Admin.
2. Menu Tab
Browse

: View the space hierarchy and navigate to the desired Space

Workspace

: View all Spaces by level. (ex. Click on 'Companies' to view all Company Space you have access to)

Console

: View Admin Console for usage data, billing, and developer page. 

Favorites

: View all Spaces and Contents you've marked as Favorite

Search

: Search Contents using everyday words or an image.
2) Space (Room View)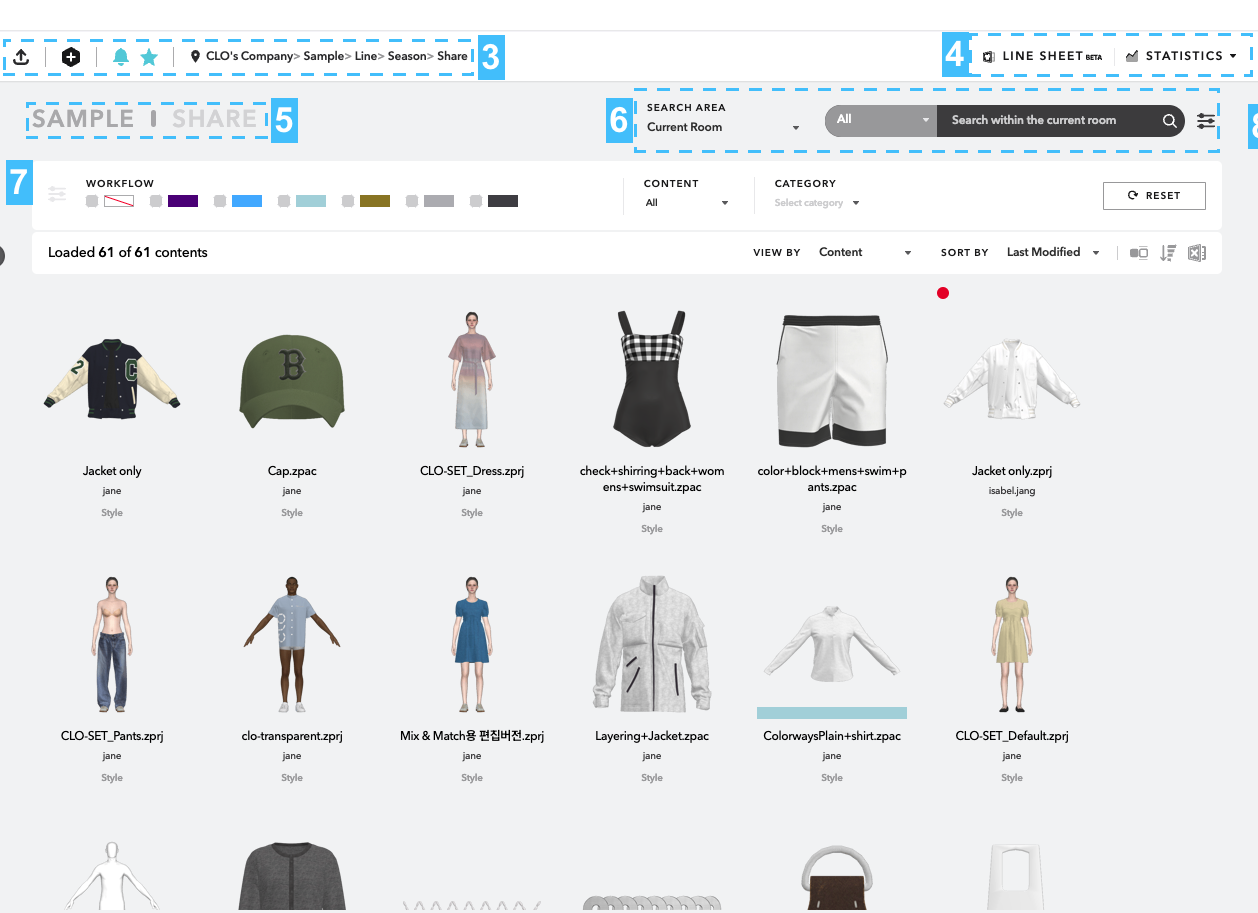 3. Space Info
Upload

: Upload a new Content in current Workroom

Create

: Create a sub-Space

Notifications

: Turn notifications on/off for current Space

Favorite

: Mark/unmark the Space as Favorite

Navigation

: Shows the hierarchy of the Space you are in
4. Line Sheet & Statistics
5. Space Name: Name of the Space you are in (Brand | Workroom)
6. Search Bar: Search Contents within the Space
7. Filter: Filter the Contents you want to view
3)Share (Right Pane)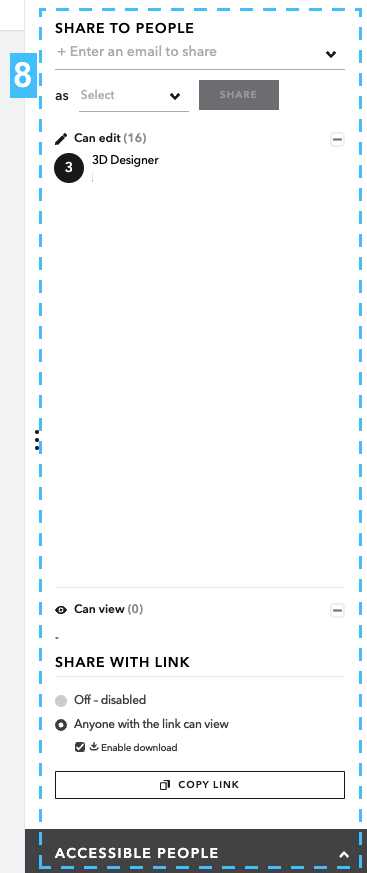 8. Share to People
Invite/Share: Invite or share with teammates

Invite: for Company/Brand
Share: for Workroom/Content

Share with Link: Turning this option on will convert the Space to public status. Be ware of the security implications when sharing with link.
Accessible People: View the list of teammates with access to this Space. This may include those with access to higher-level Spaces. For example, anyone with access to a Brand will be able to view all Workroom within the Brand.