Objective
You can render the images on the 3D Viewer in the content page.
Check real-time rendering progress and download the rendered file by clicking

icon on the Content page.
Render Preset
Details
1) Render - How To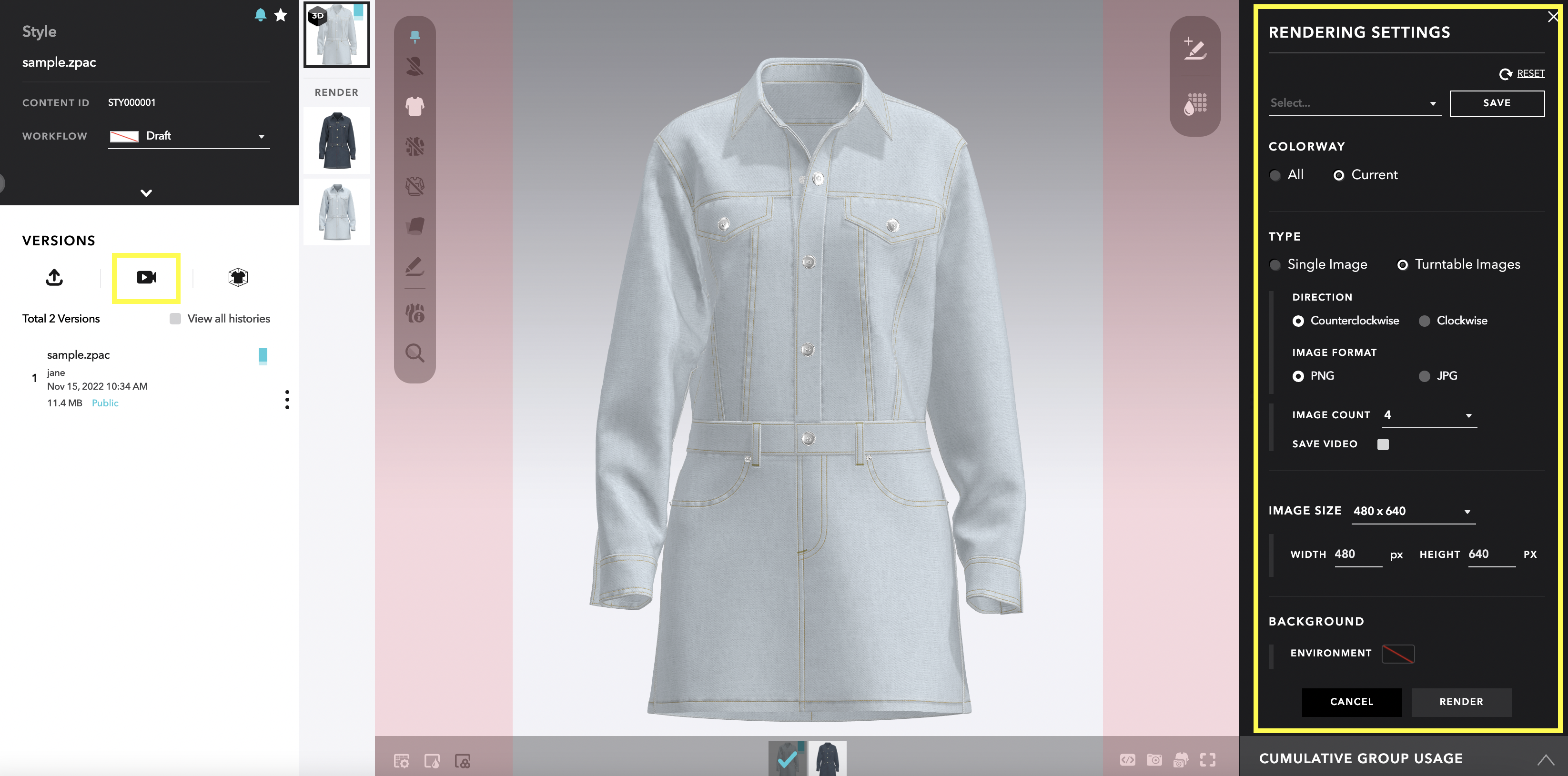 1. Click

icon on the left side of the Style page.
2. It will lead you to 'Rendering Settings' where you can set the Colorway, Type, Image Size, Background, and Quality of rendered images.
3. After the setting, click 'Render' button to start rendering.
*Please note that the maximum image size is 5000px.
*For Turntable images, maximum image count on CLO-SET is 64.
2) Crop Option in Rendering Setting
crops to the nearest 5 pixels of the 3D content,

regardless of what is shown in the 3D Viewer

works both in transparent and colored background

Style Page > Render > Rendering Settings > Background > Crop

Read more on the new feature HERE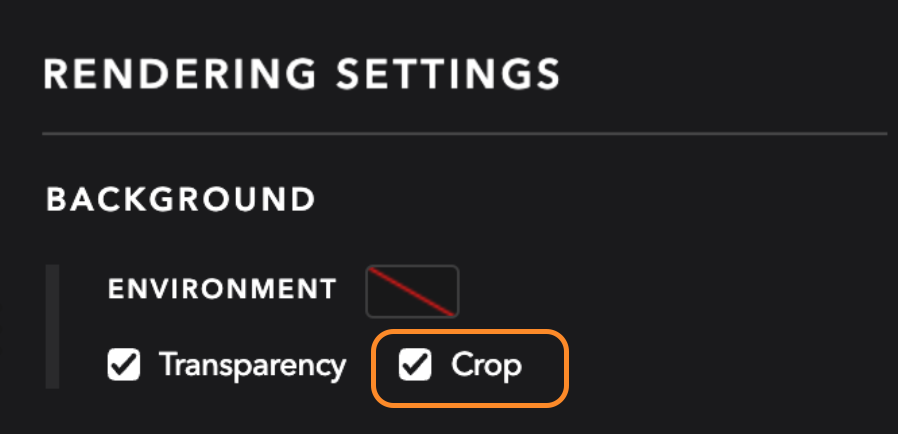 In order to properly use the 'Crop' option, the 3D content needs to be placed within the darkened frame shown inside the 3D Viewer.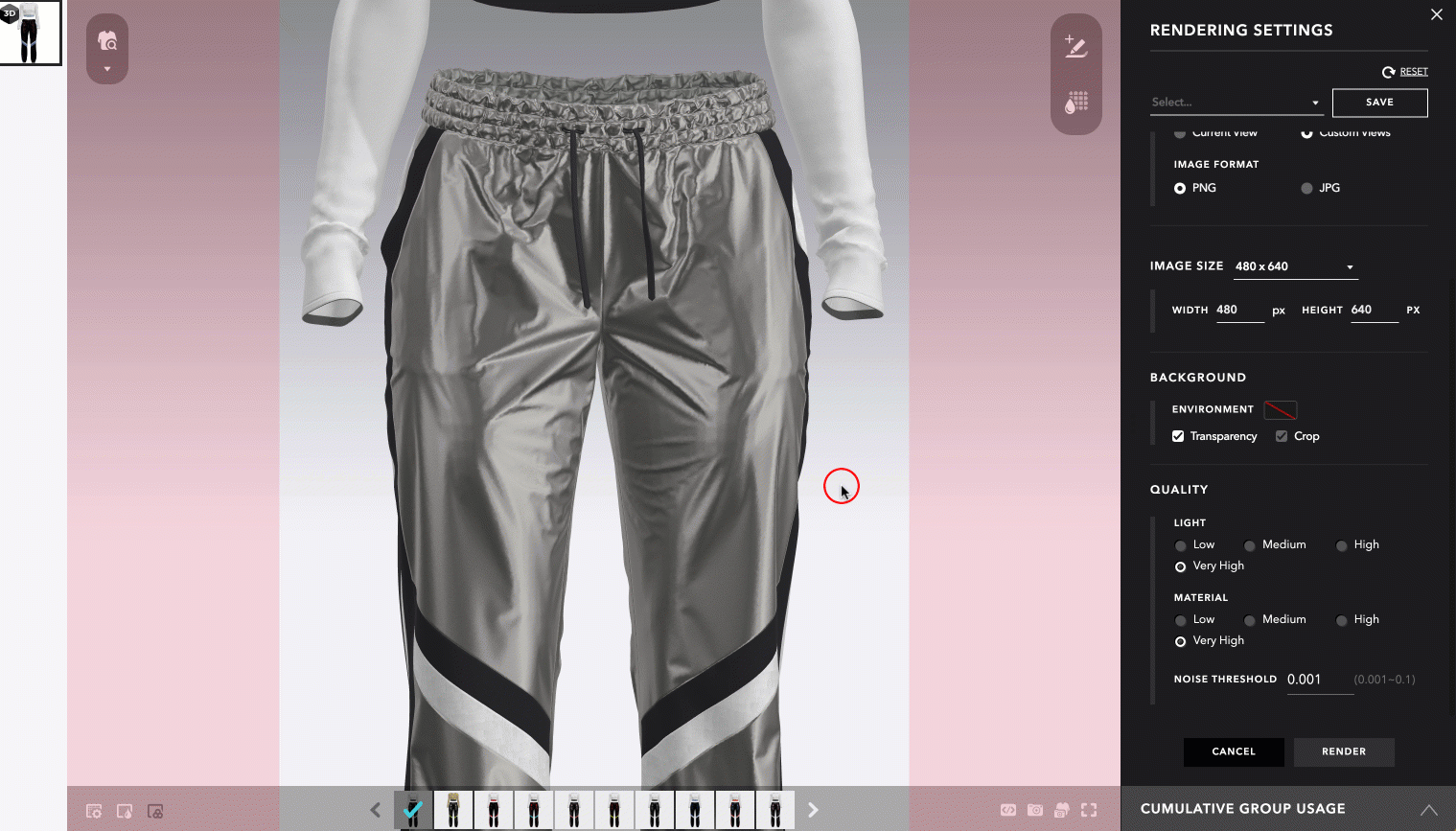 Although the darkened frame does not reflect the cropped frame when the Crop option in clicked, the 3D content is first cropped by the darkened frame. Thus, if the 3D Content sits outside of the darkened frame, the render will be cropped. For example, if the render is triggered as shown below on the left, the result will be as the following on the right.
| | | |
| --- | --- | --- |
| | ► | |
Final Render output shown below.




3) Rendering Server Status
'CLO-SET Rendering Server Status' is a feature that allows users to be more aware of their rendering status with the information of server status and their current orders in the rendering queues. Find out more details on THIS ARTICLE.
4) Render Preset
For a unified Render output, you may upload a Render Preset for your Company members. Find out more here.