Objective
You can edit the detail on each Content.
Manage Content information to be reflected on Tech Pack, Line Sheet, etc.
Detail
1. Content Information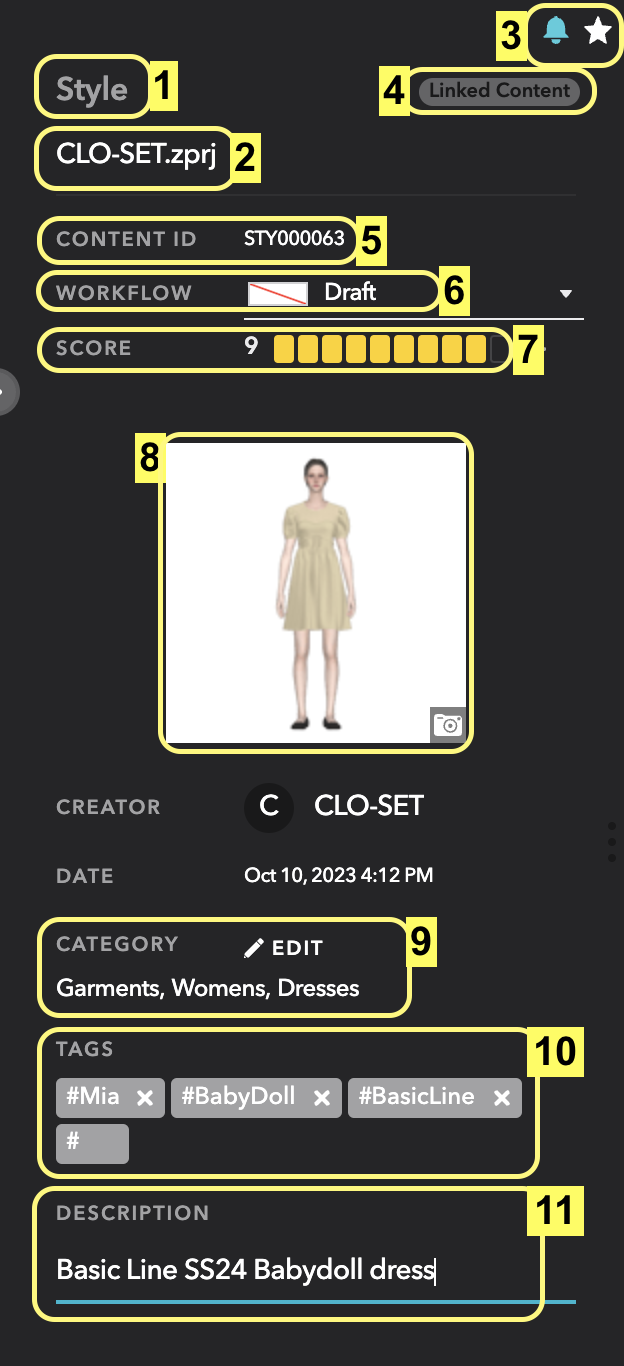 1. Content Type : zpac/zprj files are auto-identified as Style. You may choose the Content Type when uploading the file.
2. Content Name: Used throughout CLO-SET features including Line Sheet, Tech Pack, etc. You may edit the Content Name anytime by double-clicking on the field.
3. Notification / Favorite: Click the bell icon to turn on the notification of this Content. You may also add this to your Favorite list.
4. Linked Content: You can easily check the list of Parent/Child Contents with this button.
5. Content ID: Unique ID auto-created by CLO-SET and can NOT be edited. You may search the Content using Content ID.
6. Workflow: Shows the Workflow of each Content. You may change the Workflow anytime using the drop-down menu. Workflow names can be customized on Company Settings page.
7. Score: Score rating of the Content. A numerical value from 1 to 10.
8. Thumbnail: Thumbnail of the Content. You may upload an image or update it directly in CLO-SET using 'Change Thumbnail' button on your Viewer. This thumbnail image is also shown from Workroom page.
9. Category: Add Content Category to easily search and manage the files. You may customize your Category names and hierarchy on Company Settings page. This will be reflected on your Tech Pack and Line Sheet.
10. Tags: Insert Tags on your Content. This will be reflected on your Tech Pack and Line Sheet.
11. Description: Enter the description of each Content for your team. This will be reflected on your Tech Pack.