Objective
Annotation is the function that enables smooth communication among users by drawing pictures and writing comments after adjusting the view to the desired position in 3D Viewer.
Detail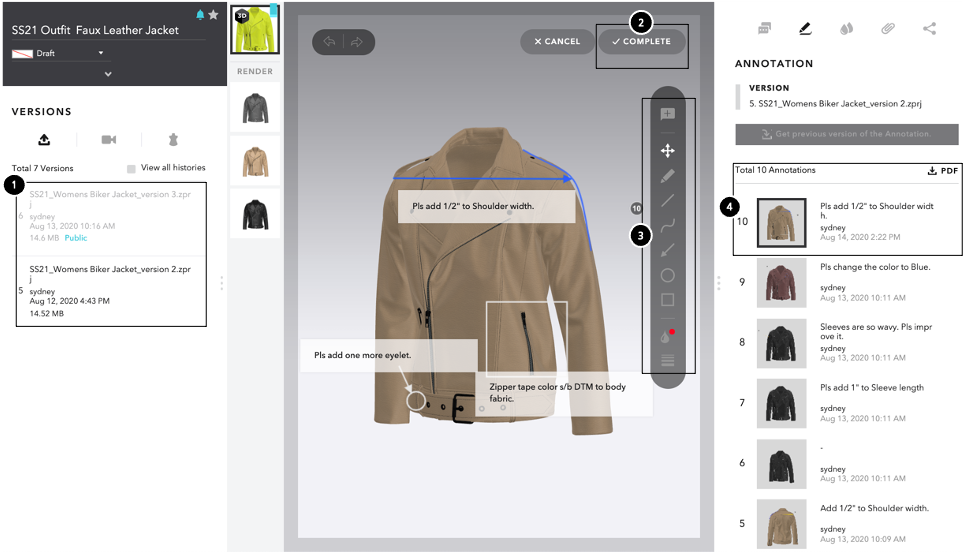 1. Select File Version: Annotation can be created by classifying 3D file version and colorway. Select the desired file version and proceed with Annotation.

To add an Annotation, click

icon in the upper right corner of 3D Viewer in Style page. Select the spot you would like to leave an annotation and click 'Post' to create it.
2. Complete Annotation: After creating Annotation, click 'COMPLETE' to save and close the Annotation. All Annotations are not saved until you click 'COMPLETE' button.


3. Add Comment & Drawing
| | |
| --- | --- |
| | Click the desired part in 3D viewer, write a comment, and click 'POST' button to create a comment window. You can edit the comment by clicking the text area of the comment window and delete your own comments. |
| | You can attach an image file as annotation. |
| | You can change the position of comment or drawing. |
| | You can create drawing and basic figures. |
| | You can set drawing color and thickness. |
4. Shortcuts
Function
Shortcut
Sub Function
Shortcut

Bold

Ctrl + B

Italic

Ctrl + I

Underline

Ctrl + U

Text color

You can add the comment with text color/Highlight color by copying and pasting from CLO-SET comment function or the external document.

Highlight color

Image tool

I

N/A

Select tool

V

Pencil tool

B

Line tool

L

Pen tool

P

Arrow line tool

A

Arc tool

C

Rectangle tool

R

Set line color

O

Set line width

W
5.Annotation List & Download as PDF file: All Annotations are added to the Annotation List and can be downloaded as a PDF file after.