Objective
Understand how CLO-SET Group Pricing works, as well as invoices and billing.
Details

1. Payment per Group
CLO-SET Pricing plan operates on a Group level. That is, each Group is using either Advanced, Free, or Trial. This pricing plan is applicable to all users within the Group.
2. Automatic Renewal
Your subscription will be renewed every 30 days. The monthly payment amount for your subscription may vary based on the number of paying users within your Group.
If you start your Advanced Plan subscription during your Trial period, the remaining Trial period will expire and considered terminated.
3. Who are the Paying Users?
'Paying User' includes any Admin, Collaborator, or Editor in your Group.
Viewers are non-paying users and are not charged additionally.

Find out more on Permissions HERE. To view or manage your Group's permissions, please visit Permission Management tab.
4. Adding/Deleting users during your subscription
You may need to add additional team members to your Group after your subscription has begun.
Additional User: Charged on the next billing cycle. Amount calculated on a daily basis. Each additional user will be charged $1.67 per day ($50/30 = $1.67). The amount will be recorded as Credit on your Group. Please see below for an example.
Deleting User: If you delete a user during your billing cycle, the amount of unused days will be refunded in a form of Credit on your account ($1.67 per user for every used day). This additional Credit will automatically be used on your next payment. Please see below for an example.
*If a user uses more than a single second during a day, we will count according to that as one used day.
*User removal standard: If you remove users on January 1st, removed the user's used amount until January 1st will be calculated and reflected on your bill.
*Plan usage period standard: Even if payment was completed at 11:59:59, we would still count as one used day.
5. What is
Credit

?
Any changes on number of users within your Group will be reflected on your Group's Credit. All Credit Balance will be processed in your next payment.
6. Refund
CLO-SET does not refund for plans that have already been paid. However, scheduled payment can be canceled in advance.
7. Example: Your Billing History Explained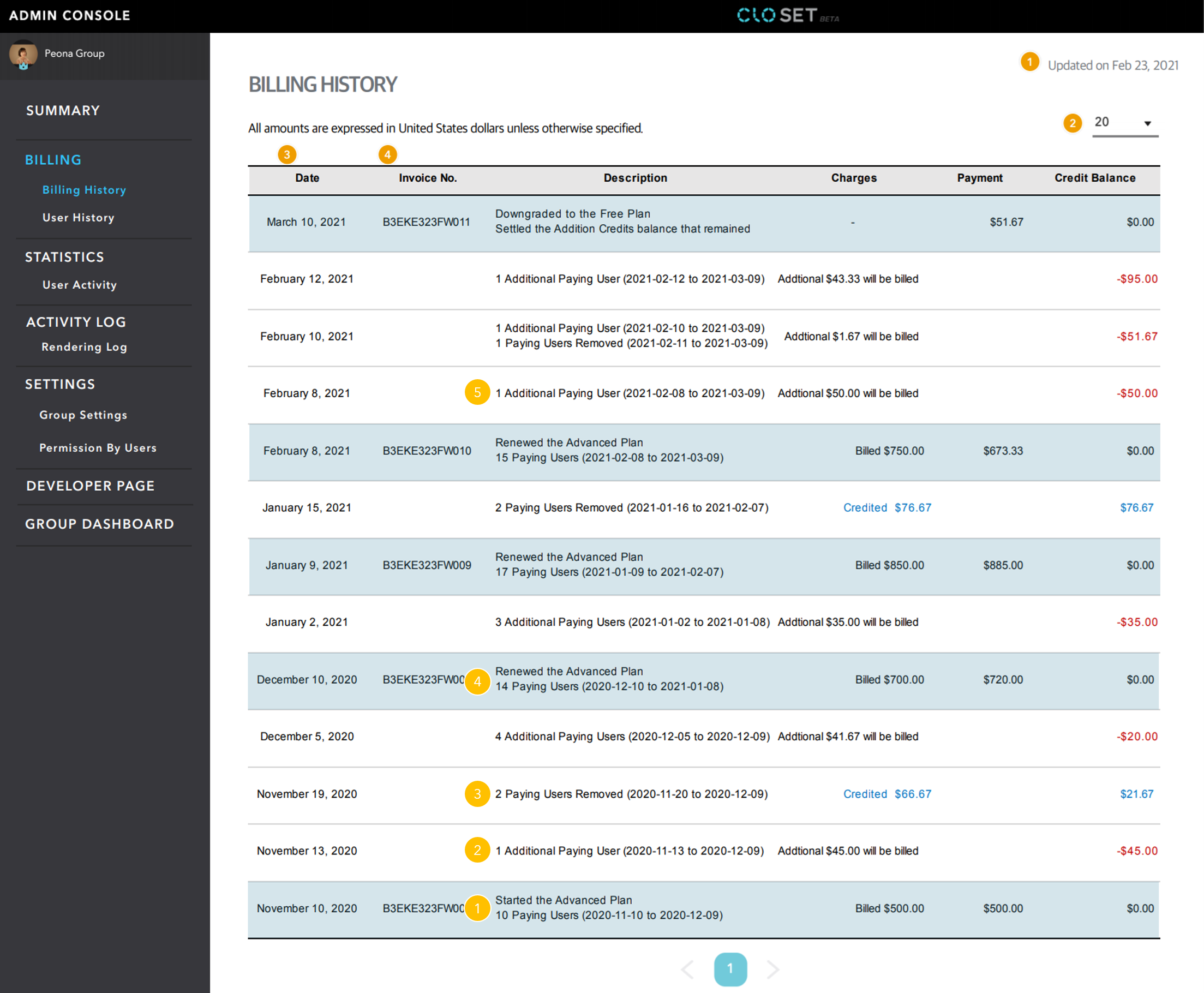 1) Advanced plan start: Prepaid for 10 Paying users/30 days in black color
2) Add Paying user: Deduct credits with (-) sign in red color
3) Remove 2 Paying users: Accumulates credits in blue color
for (2), (3) : It will not be charged immediately and it is calculated on a daily basis
4) Renewed the Advanced plan for December
Total users increase/decrease(carryover balance)*: $20 + Renewed Paying users: 700$
= Total payment: $720 & Credit balance becomes '0'