Objective
Group follows the plan which Group Admins' subscription plan. Each group follows no more than one subscription plan within a group, in another word, a single group cannot use an advanced plan and & free plan at the same time. Please read down below for the payment guideline.
Details
1. Automatic Payment
You will be charged every 30 days until the plan is terminated. The amount charged varies depending on the number of users. Once you subscribe to Advanced Plan, the remaining trial period will be terminated as soon as your payment is completed.
2. What is Paying user?
'Paying User' shall mean an End User who is granted the permission rights of 'Collaborator' or 'Editor'.
'Viewer' means an individual person designated by an Administrator/Collaborator/Editor to have the access and capabilities to view specific Rooms or Styles with an accompanying 'Can View' authorization. (Free)
3.

Daily added & Deleted user counting standard
If a user uses more than a single second during a day, we will count according to that as one used day. - User removal standard: If you remove users on January 1st, removed the user's used amount until January 1st will be calculated and reflected on your bill. - Plan usage period standard: Even if payment was completed at 11:59:59, we would still count as one used day.
4. What is Credit

?
After payment, the number of increase and decrease of the paying user will be calculated on a daily basis, and the additional fees will not be charged immediately but will be accumulated/deducted in the form of credit, and the credit balance will be included in the upcoming bill.


The accumulated credit balance will become 0 every month after payment is completed.
5.

Refund
CLO-SET does not refund for plans that have already been paid. However, scheduled payment can be canceled in advance.
6. For example: Advanced Plan Fee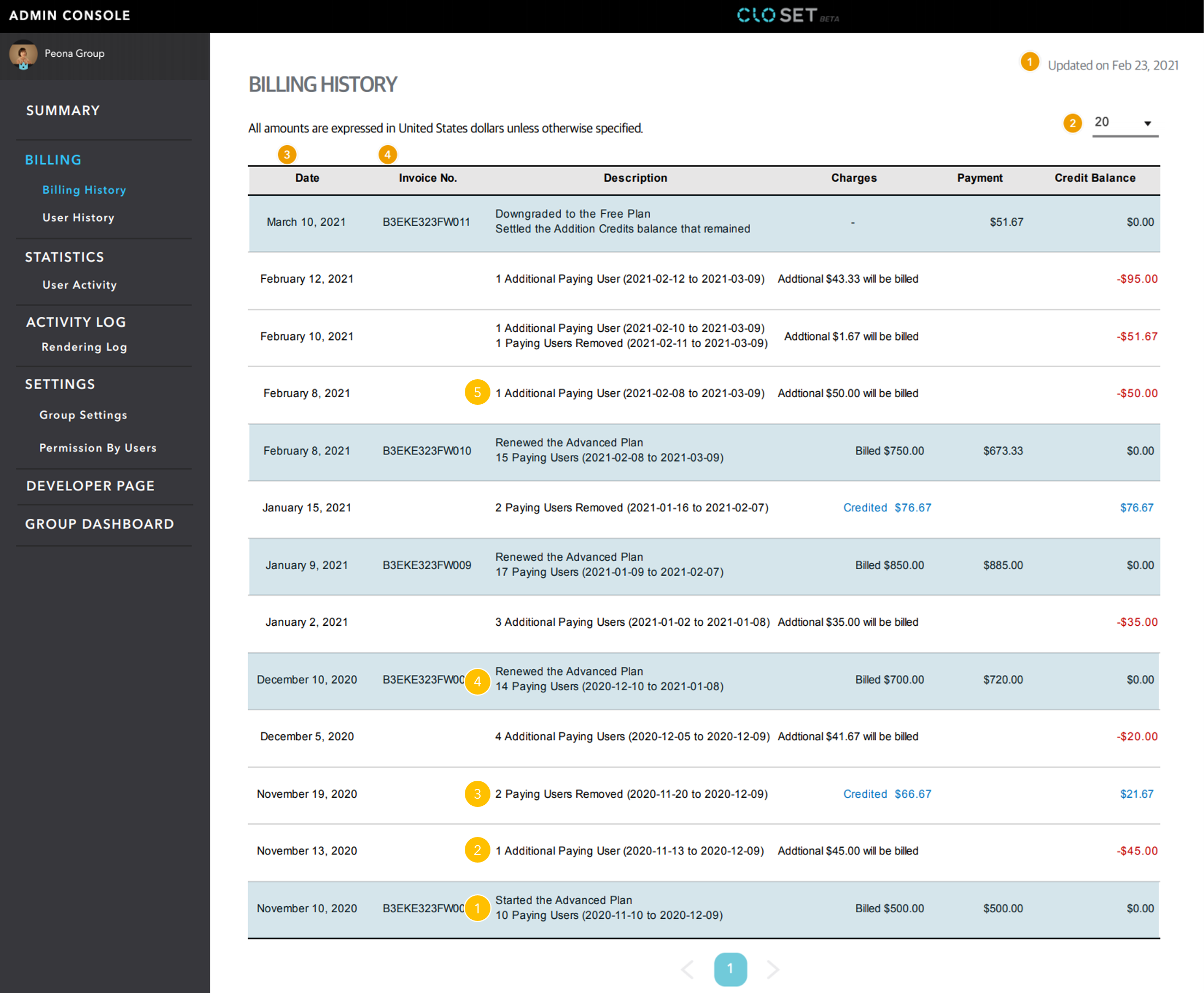 1) Advanced plan start: Prepaid for 10 Paying users/30 days in black color
2) Add Paying user: Deduct credits with (-) sign in red color
3) Remove 2 Paying users: Accumulates credits in blue color
for (2), (3) : It will not be charged immediately and it is calculated on a daily basis
4) Renewed the Advanced plan for December
Total users increase/decrease(carryover balance)*: $20 + Renewed Paying users: 700$
= Total payment: $720 & Credit balance becomes '0'