Updated: July 12th, 2022
Hello CLO-SET Users,
We would like to announce a new feature, CLO-SET BOM by Colorway and Grading!
We would love you to try and explore our BOM and would also love to hear more feedback on BOM as well as other features in our Web Tech Pack service. Hope this feature impacts your workflow in all the positive ways.
What is BOM by Colorway and Grading?
CLO-SET BOM by Colorway and Grading is a feature that allows you to customize your Bill of Materials by each colorway as well as each grading.
From our automatically generated Web Tech Pack BOM, we understand there could always be unit prices, quantities, remarks, and so on, that need data modification. Now, for any custom data entry, you are able to do so for each colorway and grading. CLO-SET BOM is now a step closer to being the ultimate product guideline, consisting of a full list of items and their respective units and costs!

Updates and Changes
Now, BOM Tab displays a new Colorway and Grade information on the top of the page.

The Colorway and Grade that is first shown in BOM is the base Colorway and Grade set in CLO3D.
How to Use
1.

Choose Colorway and Grade

2. Edit Data
As shown in the diagram below, Fabric Consumption, Unit Price, and Remark can be modified per Colorway and Grade.

Also, for the rest of Trims, the following are modifiable - Size (Width, Length, Height), Quantity, Unit Price, Remark.
3. Add Content
You can 'Add Content' for Fabric as well as Trim with

on the right top of each Section.
When Add in Trim, each Trim type will be categorized based on the File Extension.
When 'Add Content, only the contents with the proper corresponding file extension will appear.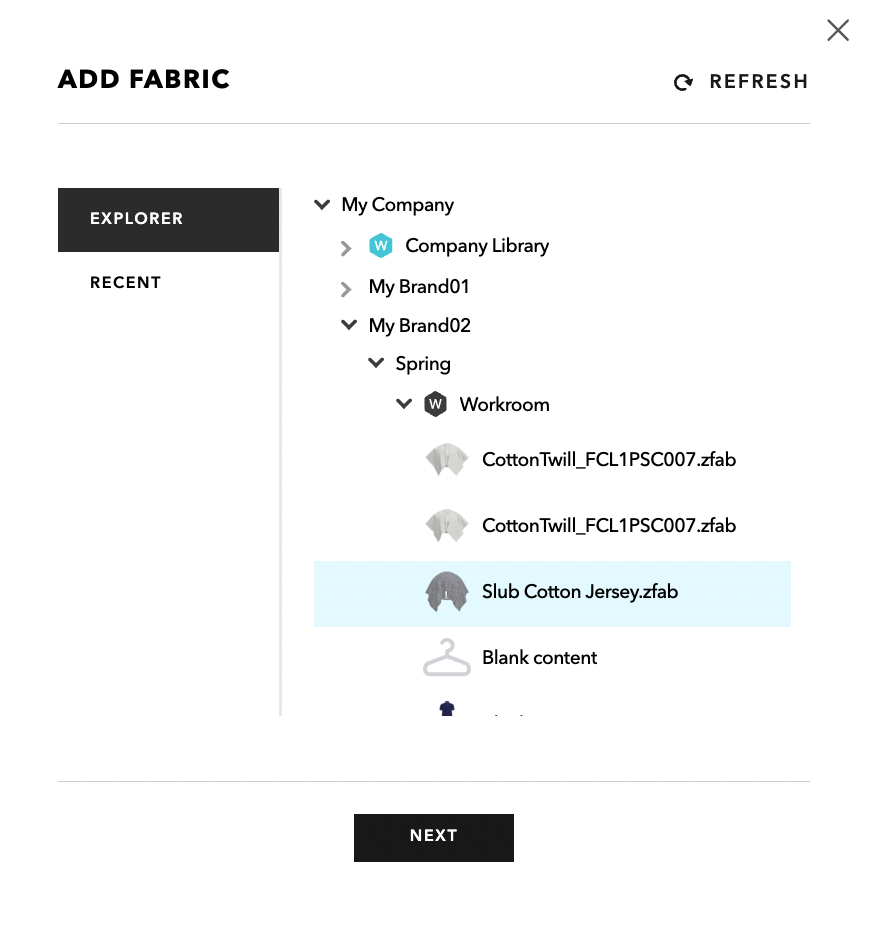 For Blank Styles, only the corresponding Content Type will appear.
| | | |
| --- | --- | --- |
| WTP Section | File Extension | Content Type |
| Fabric | zfab | Fabric |
| Trim - Button Head | btn | Button Head |
| Trim - Button Head | bth | Button Head |
| Trim - Zipper | zpl, zpu, zsd, zsl, zst, zss, zsp | Zipper |
| Trim - Thread & Top Stitch | sst | Thread / Top Stitch |
| Trim - Graphic | jpg, jpeg, gif, png, bmp, raw, psd, ai, tif, tiff, svg | Graphic |
| Etc | trm, obj, fbx, dae, glb, and others | Etc. |
Note
For contents that had been uploaded before this feature release, you may see the error message below. In such cases, please re-upload.



In order to view by colorway and grading in CLO-SET BOM, the content must have the corresponding data input from CLO3D Colorway and POM.




The name that will appear on BOM Colorway is the name you input in CLO.

The color chip that you see is the color chip of Fabric.

If there are several fabrics, you will see the very first one on the top of the list.

If you would like to switch around the order, you can simply drag and sort the order in CLO3D.



You can want to Delete specific item from each Section, you can right click. If you Delete or Add, please be noted, it will be deleted or added for all colorway and grading.



The Units in Size entries are now synced. If you had entered length in cm, but would like to edit as inch, CLO-SET BOM will convert it for you. All you need to do is select the unit you want.
Next Step
In our next phase of BOM, the following will be included.
Total Order Quantity

Ratio for each grading

Single data entry modal for all colorway and grading
We are striving for a complete BOM where every millimeter of a garment's fabric, stitches, and each and every intended trims are covered for manufacturing the product. Please be minded of our roadmap and feel free to reach out to us for BOM feedback.