Objective
Permission: Group Admin, Group Operator
You may access the Admin Console by clicking 'Console' icon on your CLO-SET dashboard. Admin Console shows the Group summary, Billing, Statistics, Activity Log, Settings, and Developer Page.
On the Statistics tab, you may review details on your billing history, invoice, and user history.
Details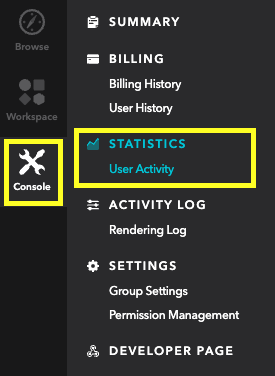 Group Settings

1. Select the measurement period you want to view.
2. You can search specific members with their registered name or email to view their usage.
3. Click on the field to sort - from highest or from lowest. The field you've chosen will be shown in skyblue.