Permission:

Group Admin, Group Operator
Objective
| | |
| --- | --- |
| | Access Admin Console by clicking icon on your CLO-SET dashboard. Admin Console shows the Group summary, Billing, Statistics, Activity Log, Settings, and Developer Page. |
On the Developer Page tab, you can add API Tokens and Triggers.
Details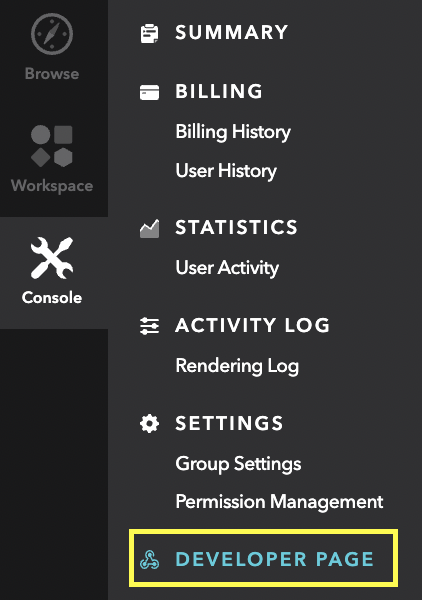 1) Trigger
[Set sync]
1. Enter the URL and click 'Update' button.
2. Go to style page. You can see the sync button activated.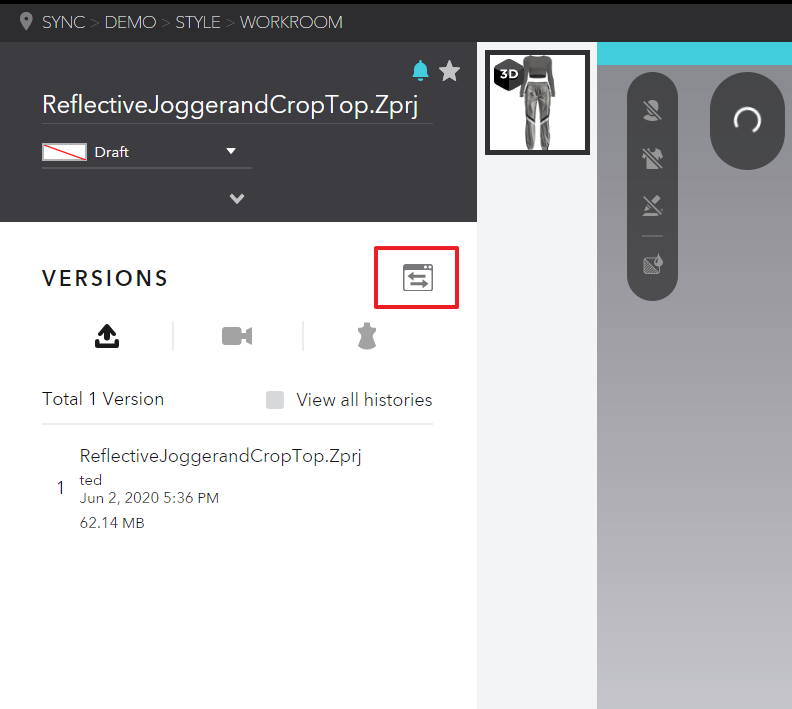 3. Click sync button to open new tab with the URL you entered above. The new tab's URL contains Style ID, style version, external style ID as query string.


[Set Render trigger]
1. Click 'ADD TRIGGER' under Render section.
2. Choose workflow status that fires the trigger.

3. Go to Workroom or Style page and change Workflow of style, and refresh your browser to initiate Render.
*Render will be requested with the uploaded file's render properties set in CLO S/W.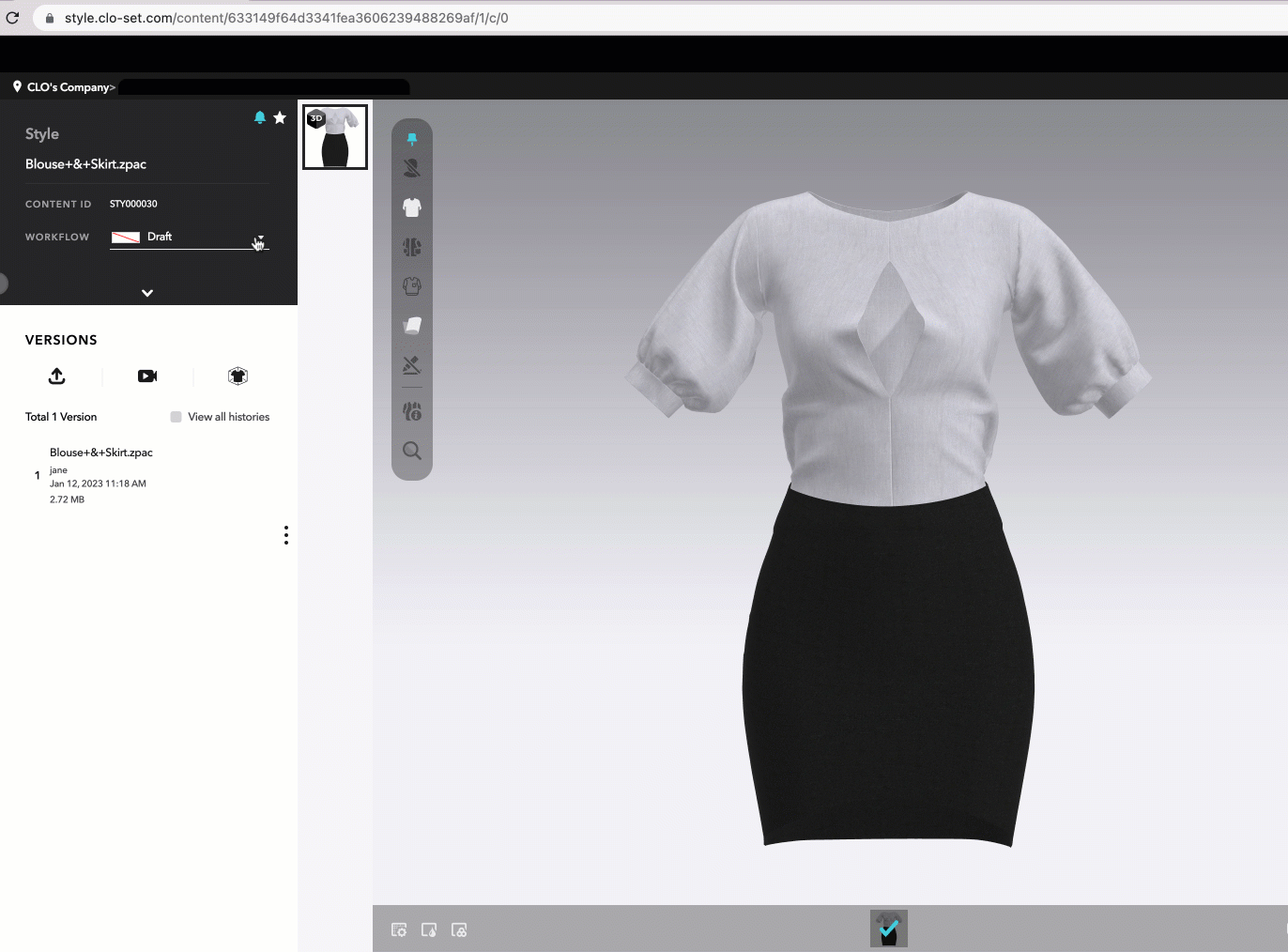 Potential Error Cases in Render Trigger Fail
In any case where render cannot be completed, Render Trigger can not also be completed
When file has not completed parsing
When file has failed parsing
When Render Setting is not yet set
Render Setting has to be set in order for Render Trigger to properly work
Render Properties of CLO3D
Rendering properties can be saved as .zvrp. It can also be opened in CLO3D.
Render Properties of CLO3D
When your Rendering Properties are established, you can then load the saved Rendering Properties without having to configure Rendering Properties every time. The loaded Rendering Properties will be saved as part of the .zprj file to be used in CLO-SET Trigger.
[Set Webhook]
1. Click 'Add trigger' under webhook section.
2. Choose Workflow status that you want to fire the trigger.
3. Enter the URL that webhook will be requested.
4. Enter the Name and Value if you want to check whether the request is valid. It will be added in HTTP header with webhook request.
5. Go to Workroom or Style page and change workflow of style.
6. Webhook firing will be requested soon.
Webhook request body sample

{
"UpdateTime": "2020-07-21T06:25:09.759785Z",
"UpdateUser": "hello@clo-set.com",
"Topic": {
"TopicId": "4ea0710a0e5f4e099d92f7a284d167f9",
"Version": 1,
"TopicType": 1
},
"TriggerType": 1,
"TriggerOption": {
"WorkflowSeq": 1679,
"TriggerStatus": 1
}
}

Webhook body schema

{
"UpdateTime": {
"$id": "#/properties/UpdateTime",
"type": "string",
"format": "date-time",
"description": "The update time that trigger fired."
},
"UpdateUser": {
"$id": "#/properties/UpdateUser",
"type": "string",
"description": "Email address of user"
},
"Topic": {
"$id": "#/properties/Topic",
"type": "object",
"description": "The updated space/style information",
"required": [
"TopicId",
"Version",
"TopicType"
],
"properties": {
"TopicId": {
"$id": "#/properties/Topic/properties/TopicId",
"type": "string",
"description": "The id of updated style or space"
},
"Version": {
"$id": "#/properties/Topic/properties/Version",
"type": "integer",
"description": "Version of style. Will be '0' if topic type is not style.",
"default": 0
},
"TopicType": {
"$id": "#/properties/Topic/properties/TopicType",
"type": "integer",
"enum": [0, 1],
"description": "Enum for what the topic type is. 0 is none, 1 is style.",
"default": "None"
}
}
},
"TriggerType": {
"$id": "#/properties/TriggerType",
"type": "integer",
"enum": [0, 1],
"description": "The trigger type that webhook triggered. 0 is none, 1 is workflow",
"default": 0
},
"TriggerOption": {
"$id": "#/properties/TriggerOption",
"type": "object",
"description": "The object information for trigger",
"required": [
"WorkflowSeq",
"TriggerStatus"
],
"properties": {
"WorkflowSeq": {
"$id": "#/properties/TriggerOption/properties/WorkflowSeq",
"type": "integer",
"description": "Workflow seq that tiggered."
},
"TriggerStatus": {
"$id": "#/properties/TriggerOption/properties/TriggerStatus",
"type": "integer",
"enum": [0, 1],
"description": "The changed trigger status for triggered object. 0 is none, 1 is changed",
"default": 0
}
}
}
}