Start building your Virtual Showroom, in 360°. Publish it online and start inviting your customers online.
Permission:
Admin, 

Collaborator,  

Editor
Pricing Plan: Advanced
*Limited time offer: free to all users (Free, Trial, Advanced)
Objective
Details
1. Checklist
1) Move Contents to Assortment.
From Workroom, move Contents to Assortment ► From Assortment, create Virtual Showroom
You can

only

add the 3D Contents located in the Assortment from which the Virtual Showroom is created.
You can create 1 Virtual Showroom per Assortment
2) Take a 360° image of your physical showroom
Or, CLO-SET provides a preset Space image.
360° image file must be less than 8192 * 4096 px, 100mb. File formats can be png, jpg, webp, gif, or hdr.
2. Virtual Showroom Setup
1) Create Virtual Showroom
On the Assortment page, click on
Enter the name of your Virtual Showroom.
Upload the 360° Space Image. You may also use the default preset image.
Upload your Logo, and click 'Create'

 

 

*You can only create 1 Virtual Showroom per Assortment. If 2 or more users create simultaneously, the first version will be saved.
2) Add/Edit Contents
1️⃣ Add Space Image

2️⃣ Add Contents

(3D, 2D, Navigation, and Other)

3️⃣ Content List

4️⃣ Settings - Name & Logo

1️⃣ Add Space Image
You may add multiple Space within your Showroom.
Click 'ADD SPACE' on the top left, and upload the Space image to create additional Space
Adding Navigation button will allow your users to switch between Spaces
2️⃣ Add Contents (Create Mark)
Click '+' at the bottom to add a Content. Adding a Content will create a new Mark.
For 3D Contents, drag & drop the one you want to add, and edit the name and Mark type.
For 2D and Other Contents, upload the file you want to add.
For Navigation, select the Mark type and select the Space to move to.
 

Edit

Mode
on

Live

Showroom
[Adding / Editing the Spot]
3D content

Drag & Drop the Content to add a Spot on your Showroom
Hover over the spot to view/edit the details
Change the Name / Spot Color & Shape, and click 'Save'
| | | |
| --- | --- | --- |
| | | |
3️⃣ Content List
• Click 'Content List' at the bottom to view all Contents loaded on your Showroom, and to edit or delete it.

 

• To remove the Content, hover over each Marker and click 'DELETE'

 

 

 

 
4️⃣ Settings - Name & Logo
Add your logo image on Settings
Turn on 'Share Live With Link' option to create a 'Share' button on your Live Showroom
Edit

Mode - Settings

on Live Showroom
3) Virtual Showroom Live
Once you're done setting up the Virtual Showroom, click on the  to publish it. Once your Virtual Showroom is published, you may share the URL to your customers.
Click to save any edits. This will not be reflected on your live Showroom.
Click to test the Virtual Showroom before publishing it to live.
You may view your 3D Contents in CLO-SET 3D Viewer after it's been published.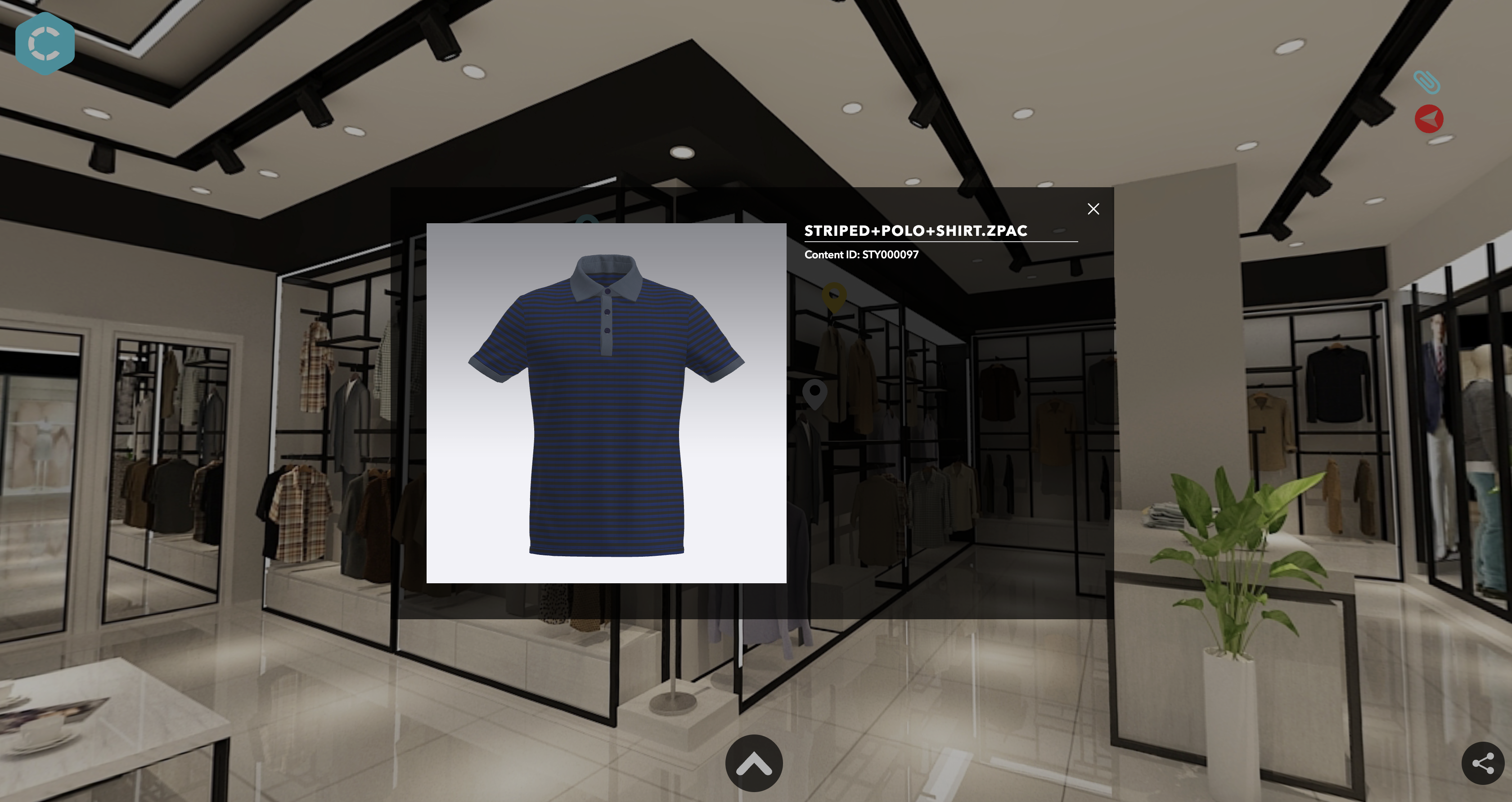 4)Download Preset Image
You may download the preset 360° background image by following the link.
https://drive.google.com/file/d/1-iIQIPSk-kJwNumnAMSyu-IUtEkivPr8/view?usp=sharing