: Vendor Workflow & Communication with Brand
Thank you all for joining us on the 4th CLO-SET Webinar!
We hope you found this session insightful. In return of your support, we'd like to share a recap with your FAQs answered! Missed the session? No worries. Watch the recordings below!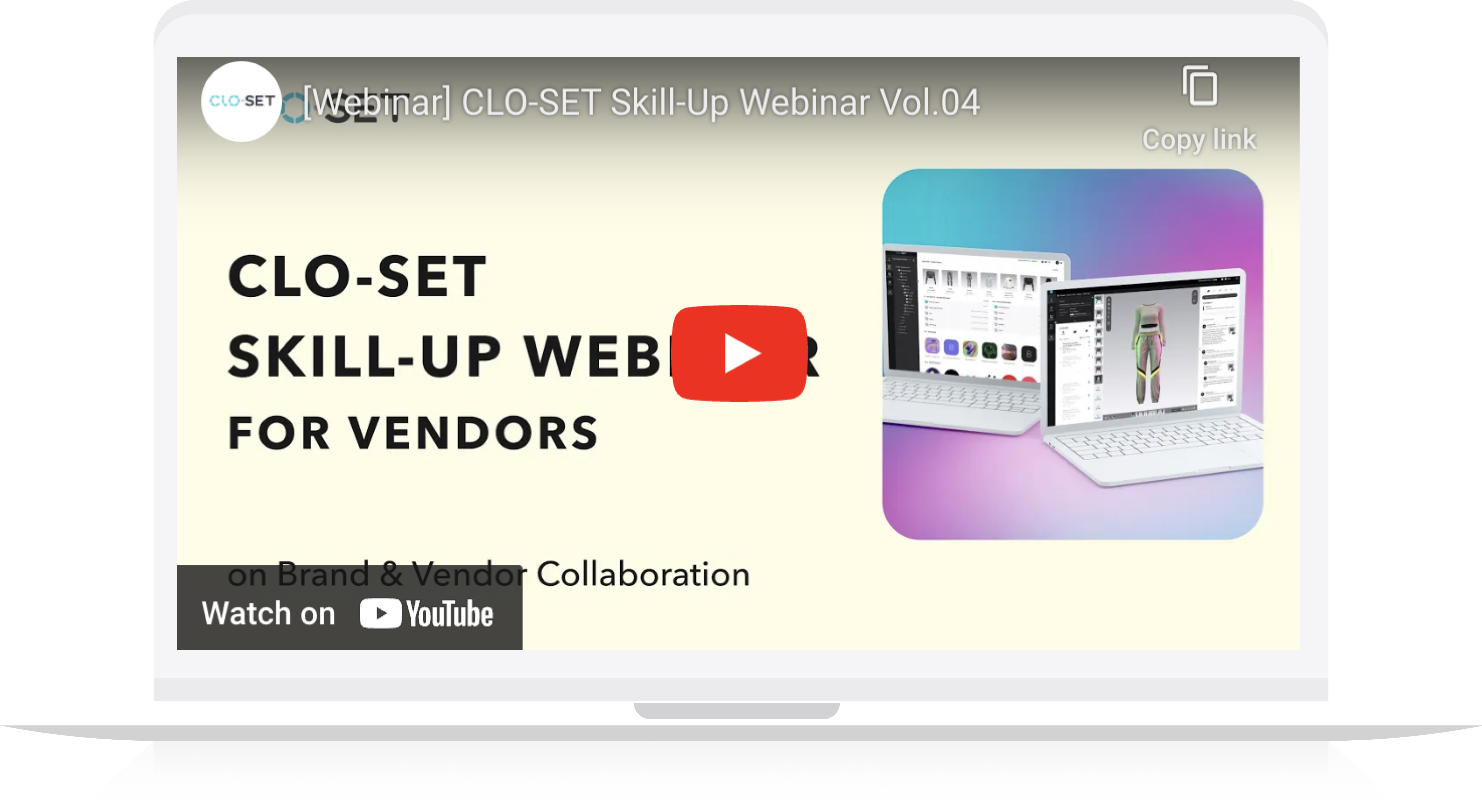 Are the features covered in this session available for Advanced Plan only?
Latest CLO-SET features including Virtual Showroom are open to all users for a temporary period. Feel free to explore and feel it first-hand!
Features such as Company Library or Assorment are available for all. But with the Advanced Plan, you will be able to use all CLO-SET features without a doubt. To learn about the difference between Free and Advanced Plan, click HERE.
What is Virtual Showroom?
One of CLO-SET's latest features, Virtual Showroom allows you to build a showroom leveraging your 3D garments. Build a virtual store to showcase your design to your buyers or customers. View example and a detailed setup guide HERE.

How can we create new colorways in CLO-SET?
CLO-SET Configurator allows you to explore different color/texture/property options with your team, real-time, online. Make changes on the color, upload new patterns, and adjust properties. find more instructions on Configurator HERE.
Can we use custom Color Palette?
As part of CLO-SET's latest feature, you can upload a Color Preset in .ACO or .ASE format. Access your go-to colors directly from CLO-SET. You may use your own color number, including but not limited to HEX or Pantone. Find more instructions on Color Preset HERE.

Is Line Sheet updated real-time?
Yes. CLO-SET Line Sheet is auto-generated from the Contents within your Space. You can manage information on each Colorway including the status, retail information, and cost. Line Sheet is updated real-time, reflecting the changes you've made from the Content page. Find more details on Line Sheet HERE.
Can I embed the 3D Viewer on my website?
Yes. With the Embed Viewer option, you can embed CLO-SET 3D viewer to your own website, either your e-commerce, blog, or portfolio. This allows you to share your 3D design to anyone even without a CLO-SET account. Find more details on Embed Viewer HERE.

What is the system requirements for using CLO-SET?
CLO-SET is optimized for PC/laptop, but you can view the garment anytime on your mobile device as well. For more information on device and web browser settings, please refer to this article.
Where can I find more CLO-SET training?
Visit CLO-SET YouTube channel for 5-minute training video for beginners. Or, join CLO-SET Discord to be part of our community, and learn about the latest feature release!
CLO-SET also offers Webinar events to cover advanced guidelines and latest features. Sign up to CLO-SET newsletter to be the first to learn! Visit your Profile Settings to turn on the notification.
How much will it cost for our team to use Advanced Plan?
With the Advanced Plan, you can access all CLO-SET features, including high quality Render. Advanced Plan is $50 per 1 paying user, charged every 30 days. To start subscribing, visit our Pricing Page.
Feel free to sign up and enjoy the Free Trial to see if it meets your needs. Trial plan is offered to all new users for the first 30 days.